Jazz vocalist, Voice teacher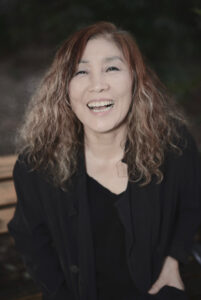 In my childhood I was influenced by my brothers who were constantly listening to Jazz. Another childhood interest of mine was visual arts. After high school I moved to Tokyo to become independent. I started Jazz vocal training and enrolled in a music conservatory with a Classical voice major. After graduation I went to New York City to experienc the real life of Jazz and Art.
In Manhattan I met many creative musicians and artists,such as Onet Coleman, James Blood Ulmer and so on. They influenced me and made my individuality stronger.
After returning to Japan I started performing at hotels and clubs. In 1984 I put out an album. I recorded original lyrics to some of Eiji Nakayama's music and started touring of Japan.
After the completion of the tour I moved to Boston to expand my education and experiences. In Boston I attended Berklee College of Music.
After graduation , I started performing around Boston area. Also I joined the Gospel choir in the Newton Mytel Baptist Church. Also, I joined a Classical and Jazz choir.

Feeling good about what I had accomplished I returned to Tokyo in 1992.
2004 I began stdying vocal improvisation with Rhiannon.I have had the plesure to study and perform with her and her students around the world.
I am currently performing, teaching, composing, and producing music.